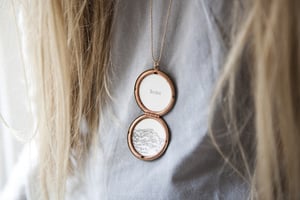 €

59.95
PLEASE READ BEFORE ORDERING:
I WORK ON ALL ORDERS PERSONALLY. DUE TO THE AMOUNT OF ORDERS, (INTERNATIONAL) SHIPMENT COULD TAKE UP TO FOUR WEEKS.
for my graduation project I decided to book a flight to oslo, and spend a month traveling through scandinavia. 
i did not plan anything, and spend most of my nights on the couches and extra beds of friendly people i met along the way. 
during my stay I took pictures, kept a diary, collected things, and recorded sounds.
when I arrived back home, i started making small etchings about my trip. 
i noticed most of my work was about 'feeling at home'.
what caught my attention was that i could feel at home in so many places. 
even when i was alone, eating an apple next to a glacier. i started to ask myself a lot of questions.
what is home?  why do you feel at home somewhere?
could something help you feel at home when you're far away?
my final work is an amulet and talisman, offering you safety and luck. 
it's a vintage locket, with on one side one of my etchings, made after places where I felt at home. 
on the other side there's a piece of etching paper with the word 'home' written with a type writer.
it is a take-away reminder of home, close to your heart. 
there are various options to make the necklaces as personal as possible, something which is really important to me. 
for example, you can choose between an etching of woods (made after a place in finland), or an etching of a mountain (made after a place in the lofoten islands, norway).
next to that, you can change the word 'home' into another small message which is important for you and your loved one.
in this time of buying gifts online, and ordering cards with pre-printed christmas greetings, i would like to create something real, warm and special.
the necklace will come in a sweet little box,
including a little 'home is where your heart is' note, in my grandma's handwriting. in the box you can also find 2 prints of vintage pictures i found while traveling, one with information about my project, and one on which i can write a personal message of choice.
if you like to, you can also send me special pictures, poems or lyrics, which i will put in the small box too.
i can also gift wrap everything with hand printed acorn themed paper.
the necklaces comes for 50 euro, including all of the options above.
to order, please send me a message with all the information you would like to give, and I'll try to make it a very special gift filled with love. 
FOR MORE PICTURES, CLICK 'MORE PICTURES' ON THE RIGHT MENU
http://lisannejanssen.com
http://lisannejanssen.blogspot.com